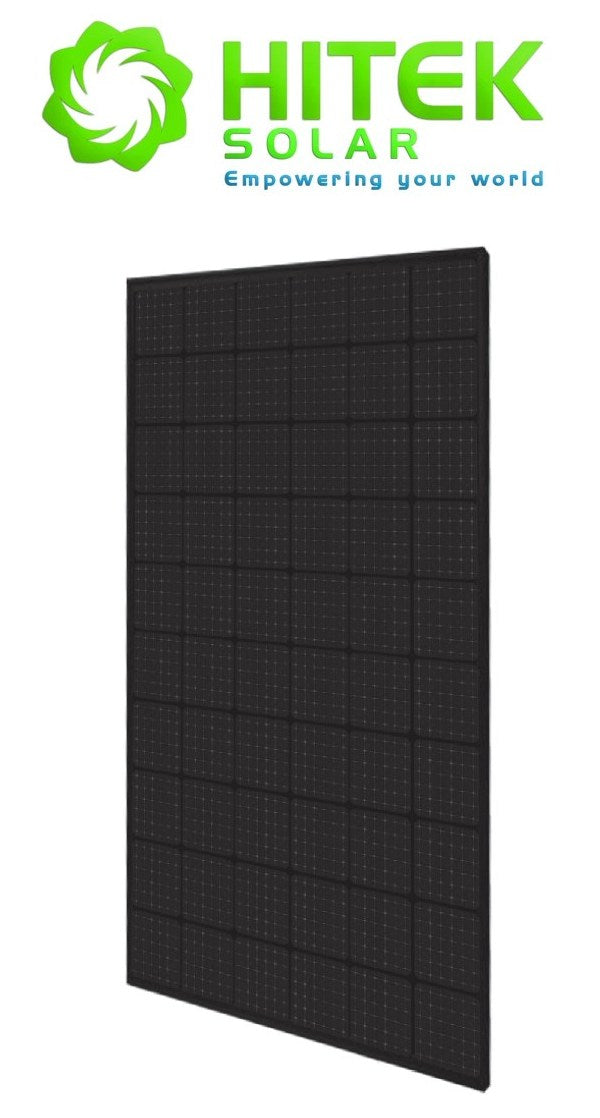 330w PERC MONO Rear Contact ALL Black Solar Panel (Very Latest Technology)

330w PERC MONO Rear Contact ALL Black Solar Panel meeting NZ / Australia and TUV International standards offering ultra high efficiency for all NZ conditions. Designed by Hitek Solar right here in New Zealand. 
(Note: This panel is the most advanced technology 330w panel in this small physical size available in NZ today).

***Note: Limited stock, get in quick before it's sold  out again.
With built in mirror reflectors in the rear of each of these cells in the panel for BEST Low Light / Overcast / Raining Day production along with best early morning and late afternoon / early evening production compared with standard MONO and POLY cell panels, the PERC MONO panels beat the other older technology panels hands down in ALL conditions.
You could say that these Rear Contact PERC MONO panels are like the Best Ultimate PERC MONO cell panel on NOS !!  They really do produce a noticeable amount more power (in real NZ conditions) as our own NZ testing sites shows from the real world data (tested back to back against other top brand standard panels).
The cells in this panel run at an ultra high 22.5% efficiency rating, and in turn our panel is the highest efficiency 330w panel available in NZ today (with the smallest physical panel size footprint), eg Physically smaller than a Trina Solar or JA Solar 330w and with a higher efficiency rating.  Even smaller than LG Neon 2 / Neon R and Sunpower Panels also (ideal for people with limited space available).
ENHANCED LOW LIGHT COLLECTION
Ultra Low Light Collection ability thanks to the removal of the conventional front bus bar wires that cause shading on the front of the cells. More light can now be captured by our panels.  By removing the front side bus bars we've enabled more front side cell light collection area which has resulted in greater light collection at all times especially cloudy / overcast days during autumn, winter, spring conditions etc.  This allows our panels to provide MORE power (per rated watt) compared with standard MONO, Poly and PERC Mono Panels with conventional bus bar technology.


HIGHER EFFICIENCY + MORE POWER
Increase in panel conversion efficiency means more power in the same space / area, while still remaining with the same installation + mounting + electrical wiring costs. This gives you more power for your investment.
Lower Temp Co-Efficient, giving more power on a hot sunny day compared with std mono / poly / perc mono panels.
With Anti-Reflective Self-Cleaning Glass technology.
Perfect for Grid Tie On-Grid or Off-Grid setups.
Using latest technology PERC MONO Highest Efficiency Laser Formed PERC MONO Rear Contact cells (unique patented production process).


LEADING VISUAL APPEAL
Better Visual Aesthetics (no silver bus-bar lines to detract from the visual look of the black panel) compared with conventional panels.  Most Full Black Panels still have silver lines running up and down the front of the cells in the panel, where as our panels here don't hence we have a better more uniform All / Full Black look for those who really care about the visual look of the panels on their site.


REMOVE BREAKAGE / MICRO CRACK ISSUES
No High Temp cell welding / micro-crack issues. Less stress on the cells during assembly which helps avoid micro cracks / issues due to the cells in our panels not being under constant tension. No ribbon tension pulling on the cells (caused by bus-bar thermal expansion / contraction) that normal panels with bus bars can experience over time.
TUV Certified PID Free + Acid and Salt Corrosion Mist Tested (for being used by the ocean) and also Ammonia tested also (safe for use on farms or similar environments).
Can clip on our Add-On Shade Optimization Upgrade Module also (as an option at time of purchase or down the track, to reduce shading loss issues on any panels that may need this extra feature).
1640mm long x 992mm wide (the same physical size as a standard 60 cell 250-315w panel) but just using the HIGHEST EFFICIENCY Cells and latest technology laser production process for MAXIMUM Power Output in the same physical area.  Perfect if you only have a very limited roof top space and want maximum solar power output !!
Note: This 330w Panel will have a BLACK 35mm frame and black back sheet + full copper sheet behind the rear of the cells also for extra strength + enhanced head dissipation properties. 

We have phased out our previous 285w, 290w, 295w, 300w, 305w, 310w and 315w PERC MONO panels and instead only offer the highest spec 330w PERC MONO version now (they were all physically the same size as this new panel) as our clients are constantly demanding the highest output possible from limited space areas, hence we've answered the call with one of the highest efficiency panels available in NZ today.  This 330w model is fully compatible with our existing 305-315w models due to operating at the same panel voltage.

This diagram below shows exactly HOW and WHY PERC MONO cells are different to standard MONO / POLY cells, due to their built in rear reflector, which allows the cell to collect more power in ALL light conditions (especially low light conditions).


---------------------------------------------------------------------------------------------------
Panel Voltage / Current Specs:
VMP Voltage: 32.8v
VOC Voltage: 40.0v
IMP Current: 10.07A
ISC Current: 10.52A
Temp Coefficient of Max Power: -0.36% per degree C.
STC:l000 W/m' irradiance, 25"C cell temperature , AM 1.5g spectrum according to EN 60904 -3

Dimensions: 1640 x 992 x 35  (35mm Frame size).

12 years physical / product warranty.
30 Year Linear Cell Power Output Warranty (underwritten by 3rd party insurance policy) meaning the cells in the panel will still be capable of reaching 80% power output at 30 years of running.  This is one of the best warranties in the industry.

--------------------------------------------------------------------------------------------

Pickup available from in Mt Maunganui, Tauranga  (on request).

We can send our items all around New Zealand.
This Panel is Highly Recommended Panel by Top Reviews NZ also.
https://www.topreviews.co.nz/best-solar-panels-new-zealand/#5_HITEK_Solar_330W_PERC_Monocrystalline_Module