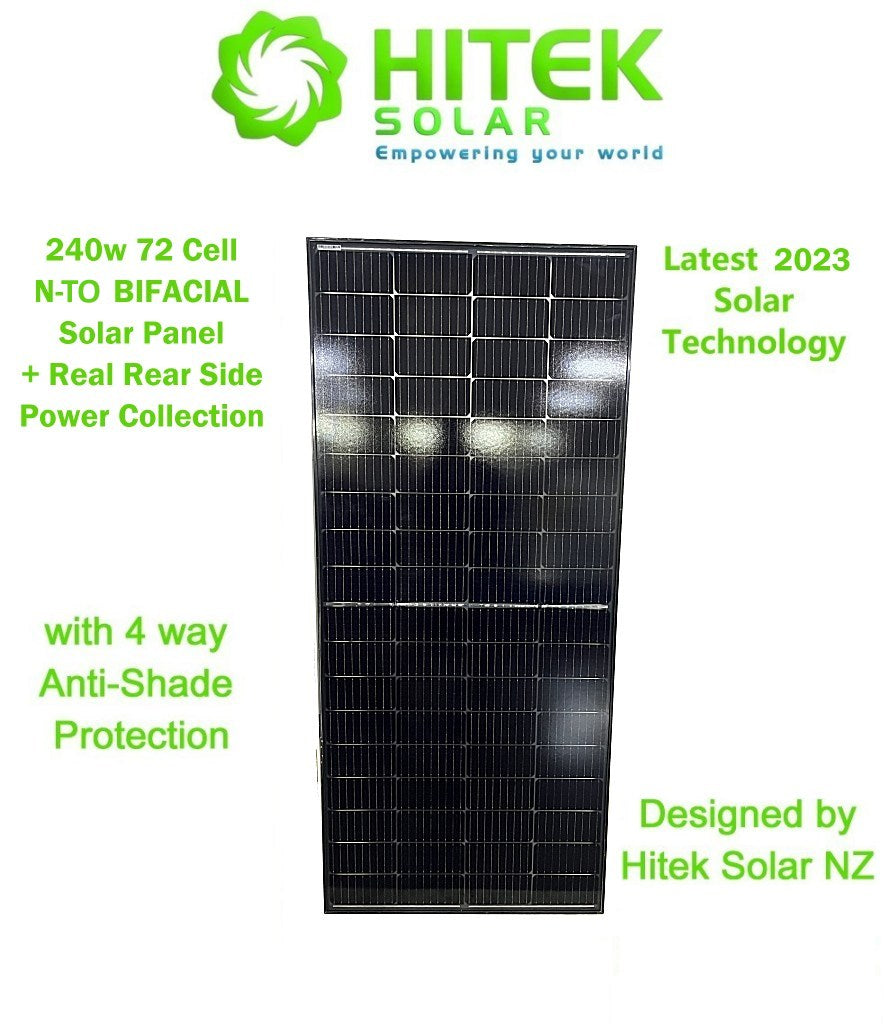 240w PERC MONO+N-TO Bifacial Solar Panel (4 Way Anti-Shading Protection) - Latest Solar Technology for 2023
240w PERC MONO+N-TO  9BB Solar Panel - 72 Cell Half Cut PERC MONO+ Technology (N-Type Bifacial cells with Tunnel Oxide Technology + Internal Light Reflectors + Front and Rear side light / power collection + enhanced low light collection far beyond conventional PERC Mono technology).

Real world front + rear side power collection from this panel (yes at the same time to give greater power collection throughout the day).

NOTE: Don't delay order now before the new shipment just arrived (Dec 2023) is sold out.

New Launched in 2023
High Energy Density + Highest Efficiency Very Latest 2023 Technology in a small form factor panel for specialist applications where large size traditional panels won't fit.  This is literally the highest wattage, highest spec small size panel of this physical size available in NZ today, even out performing modules that are physically larger and / or with a higher sticker nameplate wattage rating in many cases.

Technical Specs:
Current at PMax (Imp): 10.75A
Voltage at PMax (Vmp): 22.32V
Short-Circuit Current (Isc): 11.31A
Open-Circuit Voltage (Voc): 25.56v
Weight: 13Kg
Fuse Rating: 15A
Dimensions: 1585mm long x 700mm x 35mm Frame (Black)
10 year product warranty (Return to Base)
10 year performance output guarantee.
Anti Reflective Self-Cleaning Nano Coated Front Glass.
Clear Backsheet at rear of panel.
1585mm long x 700mm wide x 35mm panel dimensions.
Note: 5 year warranty when installed for marine use (on a boat or an object that is often floating on the water / ocean).

The N-TO Technology Layers add a more efficient current collection path to get the electrons out of the cells compared with standard conventional PERC MONO cells.  This is utilizing N-Type Silicon + Tunnel Oxide Technology Sandwiched Together to get the benefits from both the various layers working together for greater output.  We are the first solar company in NZ to release this latest panel technology in a panel of this size and with true Bifacial technology that offers real world rear side collection ability (some other companies may claim to use bifacial cells but because the rear of their panels are not transparent then the bifacial cells in those panels lack the ability to actually get true rear side collection, which in turn is where our N-TO Bifacial panels are different because they have this real world ability).
You could say that these panels are like the Best Ultimate MONO cell panel on NOS !!  They really do produce a noticeable amount more power (in real NZ conditions) as our own testing has shown (tested back to back against other top brand standard panels).
With Anti-Reflective Self-Cleaning Glass technology.
Perfect for Small Off-Grid DIY Projects including Tiny Home, RV, Caravans, Trucks, Busses, Vans, Coffee Carts & Food Trucks etc where traditional large size panels won't fit well or when you need more power output in a small space.
Jolywood Backsheet Technology (one of the highest quality backsheets in the world with longest life and lowest degradation levels + highest real world NZ UV anti-aging and PID resistance).
Using latest technology 9BB (9 Bus Bar) 72 Cell High Efficiency Half Cut N-TO Bifacial cells (Ultra High 24.5% Cell Efficiency). Made using N-Type cell wafers (superior to P-Type cell wafers).
Approved for use near Salt Environments such as RV, Caravan, Boat / Marine, Trailer, Motorhome etc.


4-Way Anti-Shade Protection within the panel (the only panel of this size / wattage in NZ today with this anti-shade ability) within a small panel.


The most advanced highest energy density small size panel available in NZ today, built using premium quality materials and most advanced cell technology.
Fitted with High Quality Split Junction Box and 2 x Bypass Diodes + the top half of the panel operates independently from the bottom half of the panel, so if there's any shading on the top half then this does NOT affect the bottom half output (and vise versa also). 

This panel has 4 Way Anti-Shade Protection, unlike traditional 36 cell panels which where you cover 1-2 FULL Cells (totally shaded) the entire panel output would drop to 0-5% output power, with this panel you avoid this issue.

For people who are mounting this panel in a situation where shading can't be avoided and multiple panels are being used we also have our separate Clip On Shade Optimizer available (separately) that can clip onto these panels to provide further Anti-Shade Optimization and to further reduce shading losses (especially if you were using series wiring between multiple panels).

1585mm long x 700mm wide (only slightly larger than a standard 180-190w 36 cell panel) but with greater real world power output ability (especially in low light conditions such as cloudy, overcast or rainy days etc).  Perfect if you only have a very limited roof top space and want maximum solar power output !!

Yes you can run 2 of these panels together to give 480w, or 3 of these panels together to give 720w or 4 of these panels together to give 960w of output power (often more than you could achieve using larger 300-450w panels).

This model panel is designed exclusively by Hitek Solar NZ and we are the only company in NZ offering this advanced high energy density small form factor panel and with this cell efficiency and with this technology.  Mainstream panel production companies in China and around the world do NOT offer this technology in this panel size, hence we had to design it ourselves and arranged our own production.

Watt for watt this panel produces more total daily output power than a standard mono or poly 280w panel (just to put it into perspective).  This panel will produce MORE power per day than ANY other panel of this same physical size available available in NZ, and in turn a noticeable amount more power than any standard 36 cell 180-220w solar panel available in NZ today also thanks to more advanced internal technology and an ultra high cell efficiency with greater reflectivity collection ability than standard full cell PERC MONO panels.

Replaces conventional 100w, 105w, 110w, 120w, 130w, 140w, 145w, 150w, 160w, 180w, 190w, 195w, 200w, 210w, 220w, 250w, 260w and even 280w panels with newer (more advanced technology) and greater real world power output.  Our testing has shown in many cases we can out perform a standard 250w-280 conventional 3bb - 5bb mono / poly panel as a comparison.

This is the most advanced High Efficiency Small / Compact panel available in NZ today for RV / Van / Caravan / Bus systems.  This panel replaces our previous 240w N-Type HJT Hetrojunction Technology panel which was also the same dimensions and the same wattage.

Our N-TO cell technology used improves the overall panel performance and the amount of power that can be collected in a day, especially during diffused light conditions compared with standard conventional PERC Mono Panels.

In addition to being able to collect a wider wavelength range of the light spectrum the cells used in our panels are Bifacial Cells (to catch reflected light bounce back from the rear side) and the rear side of the panel is transparent which allows true rear side light collection into the back of the panel and into the rear of the cells in this panel give BEST Low Light / Overcast / Raining Day production along with best early morning and late afternoon / early evening production compared with standard MONO and POLY cell panels and even better than standard PERC MONO panels.  This latest technology beats other conventional / older technology panels hands down in ALL conditions (per rated watt per panel).  In fact our testing of these 215w panels has shown HIGHER daily output on cloudy & overcast days than standard larger 280w 60 cell poly / mono panels.

During our NZ peak summer testing we managed to see a little over 305w real world output from these panels when mounted so that they were able to receive rear side collection light reflection also.

This diagram below shows exactly HOW the N-TO Bifacial Reflector Light Bounce Back works and how they're different to standard MONO / POLY cells, due to their built in rear collection ability, which allows the cell to collect more power in ALL light conditions (especially low light conditions).





The advanced N-TO cell structure is shown below for reference:


---------------------------------------------------------------------------------------------------
Pickup available from in Mt Maunganui, Tauranga  (on request).

We can send our items all around New Zealand including: Papamoa, Te Puke, Matua, Otumoetai, Auckland, Rotorua, Taupo, Gisborne, Whakatane, Waikato, Hamilton, Hawkes Bay, Napier, Kerikeri, Wellington, Nelson, Chch / Christchurch, Dunedin, Invercargill, Tasman, Picton and many more NZ places.

If you need a panel to work with your Ecoflow river, river max and river pro units also, please contact us as we may still have some of our other 215w panels available that would fit with those units.

Our Previous 215w Panel (before this new 2023 release) is Highly Recommended Panel by Top Reviews NZ also.
https://www.topreviews.co.nz/best-solar-panels-new-zealand/#7_215w_PERC_MONON-TO_Solar_Panel