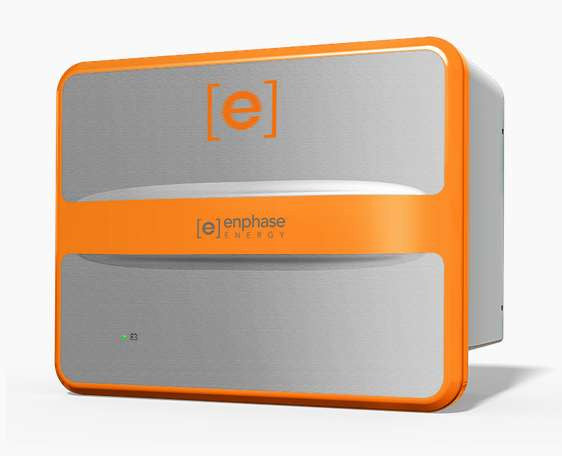 Enphase AC Battery - 1.2kWh
Enphase AC Battery 1.2kWh
The Enphase AC Battery is an integrated energy storage system that delivers high performance and superior reliability, with the safest battery technology.  Its modular architecture can be cost- effectively tailored to fulfill your customer's individual energy needs now and in the future if their needs change.
Being a modular design, if only a small amount of excess solar is available just one or maybe two AC Batteries can be added without having a substantial capital outlay to purchase a large battery system.  If the solar energy increases because additional solar modules are added or daytime usage decreases additional batteries can be easily added as required.  The new Enphase Envoy S – metered allows both the solar generation and energy usage to be monitored so you can accurately determine how much storage is required.
This allows purchasing the battery capacity required with the ability to upgrade as energy needs change. Perfect!
The performance of the Enphase AC Battery is incredible.  They are designed for a Depth of Discharge (usable capacity) of 80-90% and have a warranty 80% capacity, up to 10 years (or 7300 cycles) whichever comes first.
That's 2 cycles a day for 10 years.
The battery can be used to store excess solar generation during the day for use in the evening and then be recharged late at night during off peak periods reading for use in the morning for breakfast.
A key benefit of the Enphase AC Battery is they are fully integrated with Enphase solar systems, have energy management control, all provided from one manufacturer.  You don't need to try and match the inverter with the battery.  There is not multiple manufacturers involved with varying warranties so if there is a problem it won't be up to you to determine whether there is a problem with the charger,inverter or the battery.   Being modular there is no single point of failure so if a battery is disconnected the customers solar and storage system continues to operate with the remaining equipment.
You can also add the Enphase AC battery to any existing AC or DC solar system.
You simply wire the Enphase AC battery into the AC wiring of the switchboard without having to touch the existing solar system.  There is no need to replace the existing inverter with a new interactive inverter/charger to add the Enphase AC battery.
With the Enphase AC Battery there is no external DC wiring and hence no dangerous high DC voltages which can be the cause of fire or shock – so it is a much safer system than DC energy storage options.


OUTPUT DATA - AC @ 230 VAC
Peak output power: 270 VA
Rated (continuous) output power: 260 VA
Nominal frequency: 50 Hz
Extended line to neutral voltage range: 184 to 276 VAC
Extended frequency range: 45 to 55 Hz
Power factor: 0.7 leading to 0.7 lagging
Maximum units per 20 A branch circuit: 13


BATTERY CHEMISTRY
Capacity: 1.2 kWh (1kWh usable)
Depth of discharge (usable capacity): 80-95%
Ambient temperature range: -20°C to 45°C
Chemistry: Lithium Iron Phosphate (LFP)
Cell safety certifications: TUV Rheinland, UL
Roundtrip cell efficiency: 96%


MECHANICAL DATA
Dimensions: 390 (W) mm x 325 (H) mm x 220 (D) mm
Weight: 25 kg

Installation:
Wall mounted in an indoor, unoccupied space using standard AC wiring in conduit or in wall, where allowed (wall mounting bracket is NOT included in the price, this is available for additional cost).
Enclosure: IP20
Cooling: Natural convection – No active or passive cooling infrastructure required
Grid configuration: TT/TN


FEATURES AND COMPLIANCE
Advanced grid functionality Includes power export limiting, full power factor control, and phase imbalance Maintenance

Compatibility: Compatible with PV systems using the Enphase Envoy-S Metered gateway (this must be installed and running before you install the Enphase AC Battery).
Communication: Power Line Communication (PLC), TCP/IP through Envoy-S
Services: Maximising self-consumption, time of use optimisation, power export limiting
Monitoring: Enlighten Manager and MyEnlighten monitoring options
Compliance: Certification Pending: AS/NZS 4777.2, AS/NZS CISPR 22, AS/NZS 62040.1.1, UN ST/SG/AC.10/1/Rev.16

LIMITED WARRANTY:
Limited Warranty > 80% capacity, up to 10 years or 7300 cycles


Note: For clients who are wanting MORE STORAGE CAPACITY than what the Enphase AC Battery offers then please talk to us about our 14.4kW and 28.8kW Lead Carbon Retrofit Battery option that can bold onto "ANY" existing Solar PV installation, or likewise we have our own LiFePo4 Lithium Battery solution that can bolt onto ANY on-grid system even clients Enphase systems without needing the Enphase AC battery.