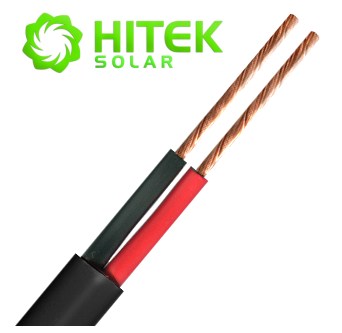 High Quality 5m x 4mm Twin Core DC Flex Cable with Black Outer Sheath (1.84mm2 conductor)
Price is per 5meter increments, so if you want 15m of cable then select qty as 3x   (3 x 5m = 15m).

Can be used for wiring 12v, 24v or 48v or 60v DC items for RV or Caravan systems such as 12v DC lights or automotive use or DIY home solar projects eg a solar gate system etc.   

Specs:
•2 Core Flat Twin Sheathed 23/.32 (1.84mmsq). P.A.C.W.
•V90 PVC insulated & 5V90 PVC Sheathed.

Conductor: 
•23 strands of 0.32mm Plain Annealed Copper to AS/NZS 1125 drawn from Class 110A copper to AS/NZS 1574.
•Max. D.C. resistance at 20C: 10.1 ohms / km.
Insulation: 
•Coloured V90 P.V.C to AS 3808.
•Nominal Diameter: 2.6 mm.
•Nominal Wall Thickness: 0.4 mm.

1. Black
2. Red
Laid parallel together side by side.

Sheath: 
•Coloured 5V90 to AS3808 Flat Configuration.
•Nominal Dimensions: 3.8 x 6.4 mm.
•Nominal Wall Thickness: 0.6 mm.

Info:
Excellent resistance to water, ozone, fluids, salt, genera­­l weathering
Excellent resistance to abrasion
Excellent flexibility and stripping performance

Note: When comparing with other cable that claims to be whatever size, check their conductor size.  Our cable here is 1.84mm2 conductor size, so be sure you are comparing apples with apples as its the conductor size that matters.

Do NOT use for any applications where you are running a current 22amp or larger as this cable is not designed for higher currents, if you need a higher current cable please get in touch with us.

A better price per meter than if you were buying from Bunnings, Mitre 10, SuperCheap Auto, Repco etc and want some good quality twin DC core cable for your home DIY projects.