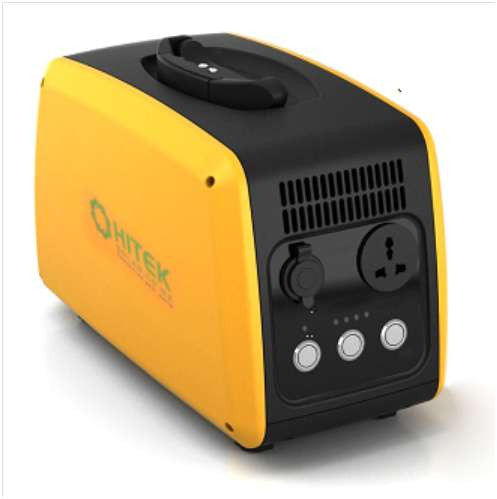 Hitek Portable Solar Generator - 1.5kW Lithium Battery Storage
This is the perfect small portable Solar Powered Generator. It can supply a constant 500w 230V AC Output (700w Peak) thanks to the Pure Sine Wave Inverter it uses internally. It has a large 1.5kWh (1500 watt hour) Long Life Lithium Battery with BMS Internally. It can charge from Solar Power (via a solar panel plugged in) or it can charge from a standard 230V AC Wall Socket.  At only 18KG it's light and portable enough to carry almost anywhere.

It can take up to a maximum of 290w worth of Solar PV input, at a maximum of of 48v DC input. It can accept 18-48v for the Solar PV DC Input and the recommended Solar Panel setup to be used with this unit would be 1 x 130w, 2 x 130w, or 2 x 145w panels. The 2 x 145w panels will give the fastest charge for this unit. During the summer it would take an entire full sunny day approximately to fully charge this unit back to full battery level, and during winter time it will take approximately 1.5 days to full charge up this unit if you were using 2 x 130w / 145w panels.

It has a 3 Pin 230V AC Plug Socket + a 12v DC Output Socket.

It can run your average Fridge / Freezer without any issues, or charge upto 8 laptops at once, or 10 ipads / iphones / galaxy phones / tablets or smart phones at once.  It can run your average crock pot, rice cooker, LED TV, DVD / BluRay player etc.  Great for using in your holiday home, batch, boat, camper van / RV, caravan, tenting holiday or even out in the bush for a few days.

We are proud to announce that we helped co-develop this product and are the first company in NZ today to have a Portable Solar Generator unit available. 

We originally developed this product for use over in the islands to help our friends over in Vanuatu, Nauru, Tonga, Rarotonga, Cook Islands, Fiji, Samoa, etc however this product works just as nicely on a construction site to charge your drill batteries or run your skill saw etc.

Could you imagine the look on your mates faces next time you turn up with one of these on your next camping trip !!

PSG-1500 Features:

Pure sine wave output, factory set for Australian / NZ 230VAC Output.
DSP chip control management with modular design.
LED lights for indicating battery status and charging status at a glance.
Multi-functional, integrated function of AC/DC charging and discharging.
MPPT solar charger, inverter output and DC 12V output all integrated within PSG unit.
High Quality Lithium Polymer battery for reliable long battery life with thousands of cycles without needing battery maintenance.
Many built-in safety protection functions: low voltage, over voltage, high temperature, short circuit, and over load protection.
Only 18KG (for the generator excluding solar panels) makes this easy to carry around, unlike like the heavy Goal Zero Yeti 1250 generators that are 46KG and force you to wheel them around.  We specifically wanted a product that was light enough to take almost anywhere (even places where you cannot easily wheel it over bumpy terrain or in the bush etc).

For more detailed specs please click here thanks.



Note: Listed price comes with No Panels or mounting rails etc, however we also have this available with a 130w panel or pair of 145w portable / folding panels (290w total) for extra cost which can self-stand nicely on the ground without needing to be mounted on a roof top.

This product has great ecological & environmental benefits, as it will help reduce the number of disposable batteries that are discarded into land fill so frequently and is much more efficient than having a diesel / petrol generator running just to power some lights or charge your phone / laptop.