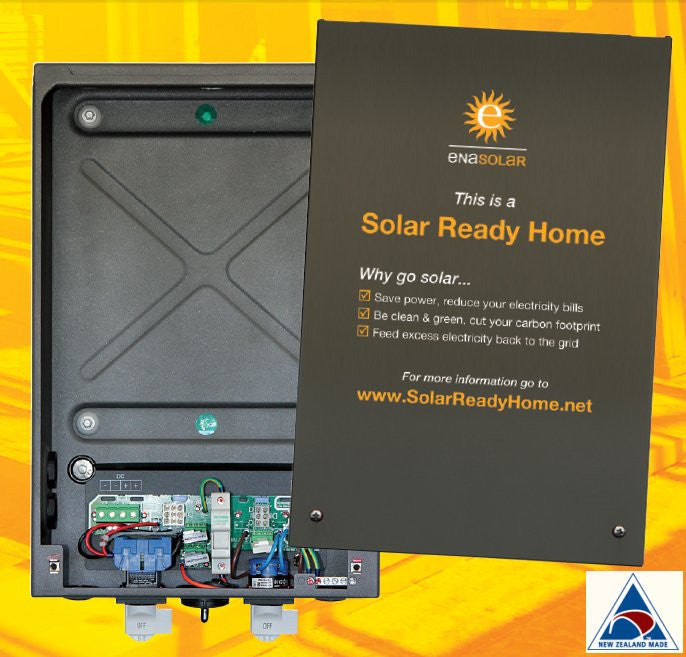 EnaSolar 1.5-3.8Kw Inverter SHR Kit
1x NZ Made Enasolar Solar Home Ready Kit to make your home or business Solar PV / Solar Power Ready.

This listing is for the Small Solar Ready kit which can handle the Ena Solar 1.5-3.8Kw Inverters. The larger Solar Ready kit can handle their 4-5kw Inverters, the larger kit is an extra $45 more cost for those who may be interested.

Complies with the new requirements of the latest AS/NZS 5033:2012 standard for Solar PV arrays in New Zealand and Australia.

The Enasolar 5kw Inverters can happily handle upto 7kw of solar panels, making their inverters very flexible for panel configurations.

This kit does NOT include ANY wiring, or any DC Breakers, although we can supply these items and more additionally if you need them.

What is a Solar Ready Home?

The Solar Ready Home concept is to pre-wire a building for solar PV which includes installing all AC & DC cabling and a Solar Ready Home Kit (you are bidding on the Solar Read Home Kit here) but no wiring etc is included.

To minimise the cost of installation the Solar Ready Home Kit is ideally installed during the build of a new home allowing all cabling to be hidden behind the walls, ready for future installation of a solar inverter and PV panels.

Using solar power in your home or business you can offset some or in many cases ALL of your monthly power bill. Who doesn't like the sound of getting something for FREE? As thats what your doing when you are using the Sun's free energy to power your home or business :)

Find out more here: www.solarreadyhome.net

Note: If you're wanting to purchase a Enasolar Grid Tie inverter, or an SMA / Sunny boy, Sunny Island, Windy Boy or off grid inverter setup give us a call. We also supply quality 250w - 300w German Solar panels, 250w Renesolar panels, battery backup, high quality NZ / Australia & TUV Compliant 4mm PV Solar DC Cable or a complete PV Electric setup let us know.