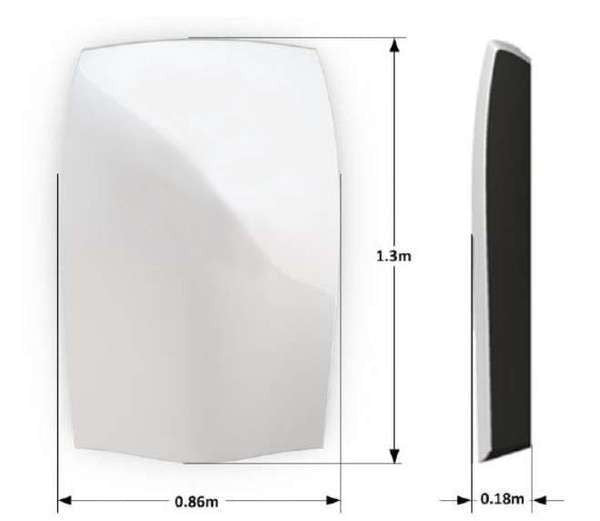 Hitek Lithium POWER UR WALL 6.4kWh Daily Cycle Solar Storage Battery
No this is NOT a Tesla Powerwall Daily Cycle Battery.  Instead it is a Hitek Lithium Power UR Wall battery instead that is based on the Open Source Tesla Powerwall design Technology (which Elon Musk made publicly available to be used by other companies).

This is a revolutionary home battery system available in Australia / NZ that is charged by electricity generated by solar panels, or from the mains grid via cheaper off-peak electricity.

It can power your home when your solar panels aren't producing enough electricity to supply your appliances – for example, in the evenings.


Helps you to get the most from your valuable solar power generation!

We've had many clients be on the Tesla PowerWall waiting list for more than a year now, and they've still not received any confirmation from Tesla about when they will be getting their units, so instead for those who are sick of waiting we wanted to offer another option.
BENEFITS
In addition to comprising of state-of-the-art components and backed by a solid 10-year warranty.
This has several features crucial in a top quality home battery system for Australian conditions.

STORE YOUR EXCESS SOLAR POWER
There is 6.4kWh energy storage capacity, sufficient to power most homes during the evening using electricity generated by solar panels during the day. These units have a 92% round-trip DC efficiency and multiple batteries may be installed together for homes with greater energy needs.

SAFE AND MAINTANENCE FREE STORAGE
Older generation of deep-cycle (home) batteries can be dangerous in the hands of inexperienced users; bulky, expensive to install and difficult to maintain.
In contrast, the lithium ion battery used here is based on the Tesla / Panasonic cell technology which is proven automotive battery technology to power your home safely and economically – and requires no maintenance!

SLEEK, STYLISH AND ROBUST DESIGN
Based on Tesla's own leading aesthetics – but don't let its streamlined good looks fool you. The enclosure is built for Australian and New Zealand conditions.

HOW THIS BATTERY WORKS
The following diagram basically illustrates how the battery integrates with a home solar power system that has a compatible inverter.
Solar panels convert sunlight to DC (Direct Current) electricity.
The solar inverter converts the DC electricity to AC (Alternating Current) and supplies power to appliances in the home.
If surplus electricity is available, the solar inverter can route DC power to charge the Battery.
The inverter can also charge the battery storage unit using cheap off-peak mains electricity.
If the battery is fully charged and the electricity needs of the household are being met, any surplus power generated by the solar panel system is exported to the mains grid.


LITHIUM BATTERY SPECIFICATIONS
Technology
Wall mounted, rechargeable lithium ion battery with liquid thermal control.
Model
6.4 kWh
For daily cycle applications
Warranty
10 years
Efficiency
92% round-trip DC efficiency
Power
3.3 kW
Voltage
350 – 450 volts
Current
9.5 amperes
Compatibility
Single phase and three phase utility grid compatible.
Operating Temperature
-20°C to 50°C
Enclosure
Rated for indoor and outdoor installation in Australia.
Installation
Requires installation by a trained electrician. DC-AC inverter not included.
Weight
220 lbs / 100 kg
Dimensions
1300 mm x 860 mm x 180 mm
Certification
Will be compliant with relevant NZ safety and electrical standards at market launch
Please note: Any orders for this product are "BACK ORDERS ONLY" for this Lithium Battery option, however if you are instead wanting a larger 14.4kWh or 28.8kWh storage capacity (and you don't want to wait for the PowerWall) then please contact us to enquire about our Retro-Fit Lead Carbon SuperCapacitor Battery Storage Option that we have available NOW !!  Our Lead Carbon Battery system can be bolted onto ANY existing Solar PV system, where as the Tesla PowerWall unit CANNOT.

Note: We do not support or supply the LG Chem RESU lithium batteries.