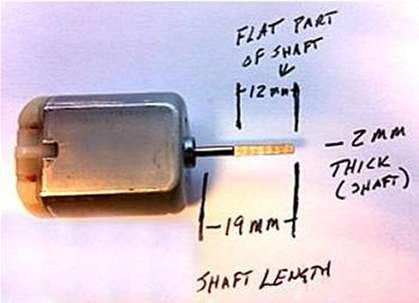 Replacement Door Lock Actuator Motor - Long Shaft (19mm)
1 x New Replacement 12v FC-280PC-22125-19D Electric Motor (Long Shaft - 19mm)
This is the exact motor needed to fit the Honda Accord Euro 2004-2010 JDM Import and NZ New Honda Euro's including the Euro-R / CL7 etc, saving you hundreds of $$ compared with buying new from Honda, and also fits 2004 onwards Subaru Legacy, such as BP / BP4 models etc.
Needing a replacement door lock motor is a very common issue with Lexus IS300, GS300, GS400, GS430, RX300, Toyota Landcruisers and Honda Torneo / CF4 SiR / CL1 Euro-R / Accord / Accord EuroR, Honda CRV, Civic, Odyssey, Toyota Tacoma, Acura E1, Toyota Sienna, Prius, 4Runner, 99 Ford Fairmont AU, AUII, AUIII, Ford Laser, Mazda Familar & many more I've not listed.
Description:
DC Carbon Brush Motor, 12V, 2mm shaft, 19mm shaft length motor. Replacement motor for many door lock motors not just the brands mentioned above.
Common Uses:
Retractable Rearview Mirror, Central Locking, Door Lock Actuator, Steering Lock

Specs:
24.2MM, 12V, 13100RPM, 0.11A ,BOTTOM CONNECTION
11480RPM MAX ,0.78A , 48.5G-CM ,5.71W
STALL TORQUE 393 G-CM, CURRENT 5.56A
Part number: FC 280PC 22125 
 
We can list the FC-280PT-22125 which is the same but has the Brass Tip on end.  However you can remove the brass tip & swap it over between the motors if your application needs the brass tip on the motor shaft.
Upto 4 can be sent for the same courier cost :)
Note: If you'd like the motor fitted in your Actuator, then this is a service I can offer for a small service charge. If you're after other small motors etc different to what I have listed here just let us know as we may be able to source for you also.
YES DEALER ENQUIRIES & BULK BUY DEALS ARE AVAILABLE for those interested please contact us direct and advise of the quantity you are interested in purchasing.  We supply used car yards & wrecking yards / dismantlers all around New Zealand and Internationally world wide.