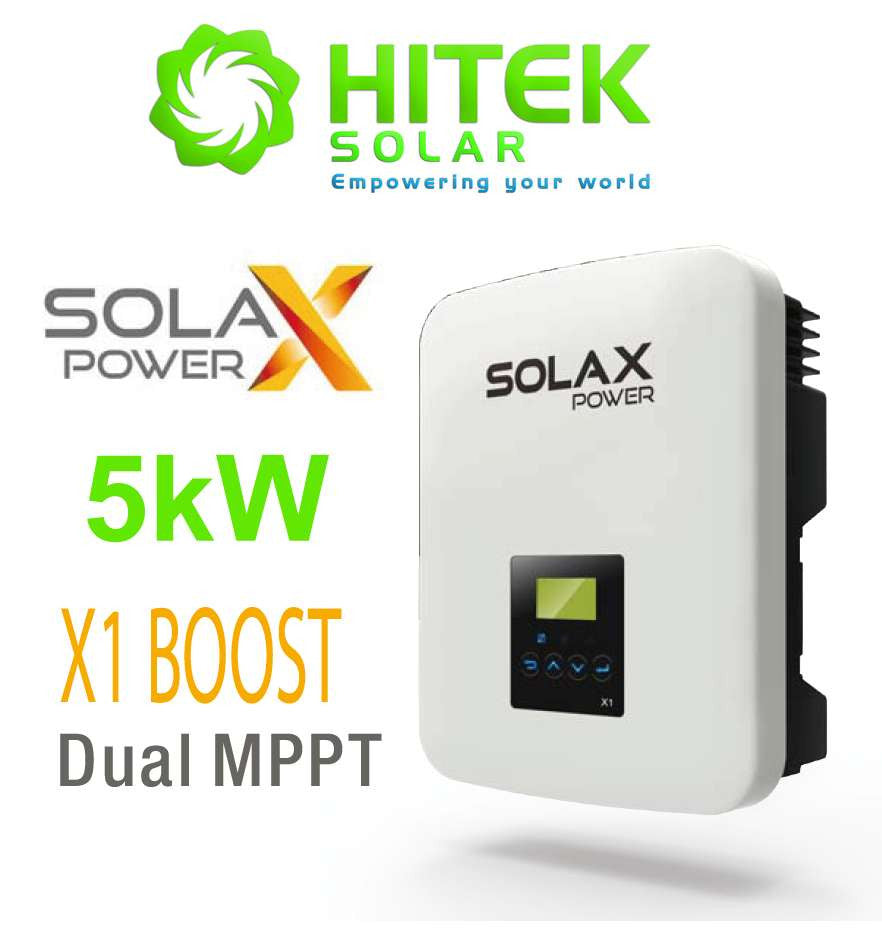 SolaX 5kW X1-Boost Latest On-Grid Solar Inverter
5kW SolaX X1-Boost GRID TIE (On-Grid) Solar Power Inverter (Single Phase Non-Hybrid), latest model just released in November 2016.

Special discounted XMAS promo while stocks last.

Ultra High Performance, one of the highest efficiencies available today. Higher efficiency than Enasolar Inverters & less heat output means less wasted power & more actual AC Power output is available to use.

Specs:
Dual MPPT Trackers allowing up to 7.5kW worth of panels, or as little as 5 panels with upgrade options later.
MPPT efficiency up to 99.9%
Maximum efficiency up to 97.8%
Maximum DC input voltage of 600V
Wide MPPT voltage range allows more energy harvesting
Flexibility & Reliability.
Meets all latest AS/NZS 4777.2:2015 specs & standards for NZ Solar PV installations + IEC 62109-1 & IEC 62109-2 + AS/NZS 5033:2014 Compliance (latest NZ 2016 std).
5yr Hardware warranty (10 year warranty upgrade options available).

Low turn-on and off voltage, longer working time
Fanless, quiet and low maintenance
High protection class IP65 (indoor/outdoor use)
Multiple protections: RCD, isolation, over voltage, and earth protection,etc
User-Friendly

User Friendly Clear LCD Display
RS485, (WIFI communication via optional upgrade - Not included) for monitoring via PC / Laptop or iPhone / Andriod over Internet connection.
"Plug and play" connection for easy installation & maintenance
Has the latest DRM support for demand response + supports reactive power and Power Factor Correction also.

One of the best inverters on the market available today for the price with the most flexability and widest range of panel input options.

This inverter is higher spec and higher output than many inverters costing twice it's price such as many from SMA, Enasolar, etc.