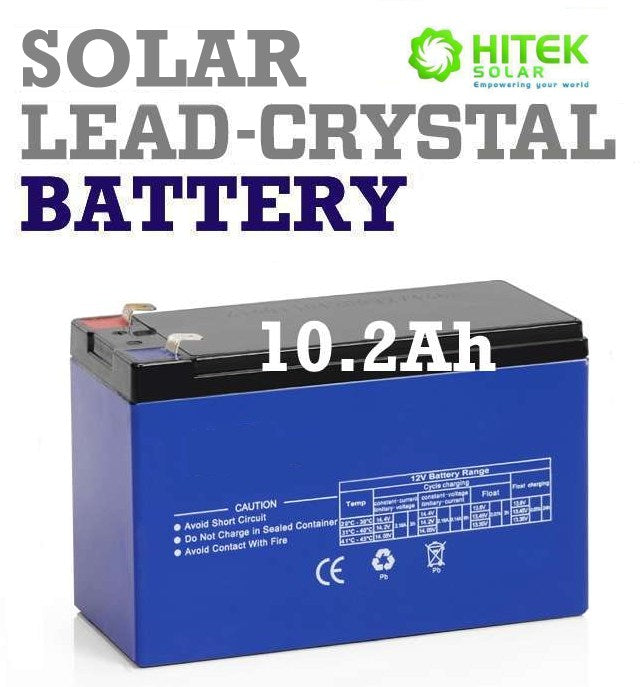 12v 9Ah - 10.2Ah Sealed Deep Cycle Solar Lead-Crystal Battery
1x New 12V Sealed Deep Cycle Solar Lead-Crystal Battery.
10.2Ah at C20 rate (the same rate Neuton Power / Haze / Vision are rated at).
9Ah at C10 discharge rate.

GET MORE Power in the same physical size than your standard normal 12v 7Ah or 9Ah AGM battery with this battery here !! Can also replace 12v 10Ah, in the same size as a standard 7ah battery.

Upto 4x longer life than a std AGM batttery (great for people who don't like wasting time or money replacing their battery frequently).

-Latest Technology Solar Lead-Crystal Deep Cycle Rechargeable Sealed Type
-151mm (L) 100mm (H) 65mm (W)

Perfect for those who need the LARGEST Capacity & longest life available in this physical size battery.

Works with most alarm systems & compatible with many solar power systems / chargers also.

Yes if your existing Seahorse, Predator, Torpedo, GTK or other brands of Kontiki units. Fits many UPS units that usually take the 12v 7Ah battery this 9Ah version can be used instead to give Extra / Extended Run Time which is nice !!
Note: If your Kontiki uses the larger 12v 12Ah battery (as many also do) we have a 14-16Ah deep cycle lead crystal battery available (separately) please contact us if you are needing one of those.

**Retail for the above product is over $95 **

A common size battery often used in:
Standby applications, UPS, Computers, Lanterns, Torches, spot lights, Mountain biking, Alarms, Kontikis, Fish finders, Electric scooters, battery backup systems (such as APC UPS), Solar electric fence units such as Speedrite Energizer Solar S150 and much more.

151mm Long
65mm wide
94mm high
12v
2.7Kg

Recommended charger= 900mAh-3.6amp 12v

Also known as:
Solar Lead-Crystal Battery
SLA or Sealed Lead Acid Lead Crystal battery.
VRLA or Valve Regulated Lead Acid Lead Crystal battery.
AGM or Absorbed Glass Mat
Compatible with Gel Cell applications

Note: This battery has the standard spade style terminals as pictured.
 
They are completely sealed and maintenance free, don't make any corrosion and are very resistant to vibration. 

Absorbent Glass Mat (AGM) technology for efficient gas recombination of up to 99% and freedom from electrolyte maintenance or water adding. 

Long service life, float or cyclic applications. 

Maintenance-free operation. 

Low self discharge. 

Works with most alarm systems

Common rechargeable battery used in:
Standby applications, UPS, Computers, Lanterns, Torches, spot lights, Mountain biking, Alarms, Kontikis, Fish finders, Electric scooters, battery backup systems and much more.
Also known as:
SLA or Sealed Lead Acid Lead Crystal
VRLA or Valve Regulated Lead Acid Lead Crystal
AGM or Absorbed Glass Mat
Compatible with Gel Cell applications