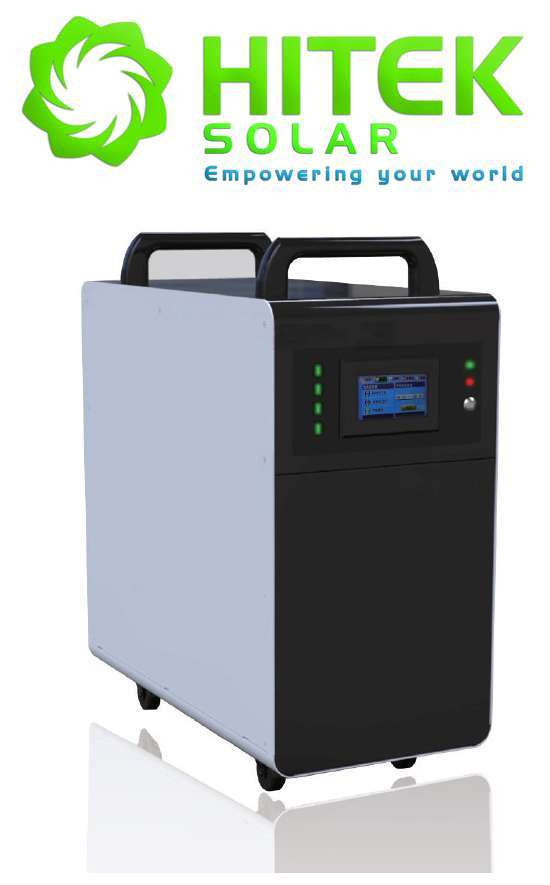 Hitek Home Solar Generator - 2.4kW Lithium Battery Storage *Special*
This is the perfect Home Solar Powered Generator. It can supply a constant 2000w / 2kW 230V AC Output, thanks to the Pure Sine Wave Inverter it uses internally. It has a large 2.4kWh (2400 watt hour) Long Life Lithium Battery with BMS Internally. It can charge from Solar Power (via a solar panel plugged in) or it can charge from a standard 230V AC Wall Socket.

Clearance special this is the last 1 of these units we have left in stock, so the price has been reduced from the standard normal $7000 down to $5995 only for this last unit.

It can take up to a maximum of 2500w (2.5kW) worth of Solar PV input, at a maximum of of 48v DC input. It can accept 60-90v for the Solar PV DC Input and the recommended Solar Panel setup to be used with this unit would be 4, 6, 8 or 10 x 250w panels. The 10 x 250w panels will give the fastest charge for this unit but in all honesty even 4 panels would get this unit charged back to full during an entire summers day.

It has 3 x 3 Pin 230V AC Plug Sockets and you can even run an extension cord / multi board off these sockets also (as long as you don't exceed the 2kW Inverter output).

It can run your average Fridge / Freezer & TV at once without any issues, or charge upto 15 laptops at once, or 20 ipads / iphones / galaxy phones / tablets or smart phones at once.  It can run your average crock pot, rice cooker, LED TV, DVD / BluRay player etc.  Great for using in your holiday home, batch, large boat, camper van / RV, caravan or even hunting cabin out in the bush for a few days.

We are proud to announce that we one of the first Solar Power companies in NZ today to have a Home Solar Generator unit available. 

We originally sourced this product for use over in the islands to help our friends over in Vanuatu, Nauru, Tonga, Rarotonga, Cook Islands, Fiji, Samoa, etc however this product works just as nicely in a container home or a construction site to charge your drill batteries or run your skill saw etc.

Could you imagine the look on your mates faces next time you turn up with one of these at your batch for the next camping trip !!

HSG-2400 Features:

Pure sine wave output, factory set for Australian / NZ 230VAC Output.
DSP chip control management with modular design.
LCD / LED touch screen display for indicating battery status and charging status at a glance.
Multi-functional, integrated function of AC/DC charging and discharging.
MPPT solar charger, inverter output all integrated within HSG unit.
High Quality Lithium Iron Phosphate (LiFePO4 / LFE) battery for reliable long battery life with thousands of cycles without needing battery maintenance.
Many built-in safety protection functions: low voltage, over voltage, high temperature, short circuit, and over load protection.

For more detailed specs please click here thanks.



Note: Listed price comes with No panels or mounting rails etc, however we also have it available with 4, 6, 8 x 250w or even 10 x 250w panels (Upto 2.5kW total) for extra cost for those interested.

This product has great ecological & environmental benefits, as it will help reduce the number of disposable batteries that are discarded into land fill so frequently and is much more efficient than having a diesel / petrol generator running just to power some lights or charge your phone / laptop.